Table of Contents: [
Show
]
Price of the Latest Brother DCP T700W printer – This printer is included in the Brother multifunction printer which has a high print speed and is also resistant to high number of printing such as use in middle class offices and also growing business.
After previously the Erzedka.com had informed about the three newest Brother printers that were launched, namely the DCP-T300, DCP-T500 and DCP-T700 Brother series types which we will discuss in full this time, namely the specifications and the best DCP-T700 Brother Printer prices.
Among the three series, it is also equipped with ADF printing which will simplify the process of scanning and copying automatically. Copy and Scan 2 sides can also be done easily using this existing ADF feature.
The main advantage of this Printer Brother T-700 is that it has implemented a printer with a refill ink system in the form of automatic ink distribution from the original ink tube which can be refilled when the ink runs out, even this ink filling is quite easy and practical to be done by the printer owner himself. The ink capacity that is accommodated is also quite large, this also allows users to continue to print large quantities.
Discussing about the original ink tank owned by the latest Brother series printer is quite unique and cool, because it really puts printer users first. The ink tank is designed to be as comfortable as possible by placing it on the side of the printer so it doesn't interfere with printing, the ink tube design is made transparent and see-through to make it easier to see the remaining ink volume.
The printer is supported by connectivity via wireless / wireless Wifi and WLAN networks, this supports users of devices with wifi networks such as Smartphones, Laptops, Tablets to access the Brother printer faster without having to connect a USB 2.0 cable first. You can see the complete specifications of the DCP-T700 brother printer in the following table,
Brother DCP-T700w Full Specification Table
Brother DCP-T700w Specifications
Printer Model
Printer Type

Multifunction Inkjet

Print technology
Color Inkjet Technology
Multifunction Printer


Yes (Print, Copy, Scan)

Printer

Resolution

6000 x 1200 dpi
Max Paper Size
8.5″ x 14″ (Legal)
Ink Saver Mode
Yes
Print Speed
Draft printer print speed
27 ppm Black (Monochrome) 10 ppm Black (Colour)
ISO printer print speed
11 ipm (Monochrome) / 6 ipm (Colour)
Copy
Printing
B/W & Color Copying
Copy Speed
4.8 ipm Black | 3 ipm Color
Copy reduce and enlarge feature
25% – 400%
Maximum Copy
99 sheet
Scanner
Scanner Type

B/W & Color Scanning

Scanner Resolution
1200 x 2400 dpi

Max Interpolated Resolution
19,200 x 19,200 dpi

Scanner Size
210 x 297 mm ( A4)

Scan File Formats
TIFF, JPEG, BMP, MAX, HTM, PCX, DCX, PNG, FPX ,PDF
'Scan to' feature
E-mail, Image, OCR, Media Cards, File and USB Flash Memory
Paper Handling
Duplex mode
Ya, 20-Sheet ADF
Max incoming paper
100 sheet
Supported paper
Letter, Legal, A4, A5, A6, B4, B5, Envelope, Photo 4×6, Index Card
Max out paper
50 sheet
Borderless printing
Suport
Power Consumption
Printing
16 watt
Ready
2,5 watt
Sleep
0,7 watt
Printer off
0,2 watt
Other Information
Maximum Monthly Duty Cycle
2,500 Printed Pages
Memory
64 MB
Compatible Operating System
Windows XP/7/8/Win Server 2003 -2012 / Server 2012/Mac Os/linux
Display & Touch Panel
1 inch panel / 30,000 pages (whichever comes first)
Connectivity

Hi-Speed USB 2.0
Wireless

Printer Size
435 (W) x 374 (D) x 180 (H) mm (length x width x height)
Weight
8.3 kg (11 kg on cardboard)
Warranty
3 Year
Brother DCP-T700w Printer Cartridge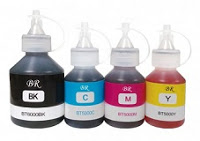 Black ( BT6000 BK ) = 6000 Page
Cyan ( BT5000 C ) = 5000 Page
Magenta ( BT5000 M ) = 5000 Page
Yellow ( BT5000 Y ) = 5000 Page
Price of the Latest Brother DCP-T700w Printer
Brother DCP-T700w Printer Price Information
New Printer Price
$187.60 – $243.19
Price of used printers
-
That's a little summary that
Erzedka.com
can share regarding the Latest Price of the Latest Brother DCP-T700 and also the price of this used Brother DCP Printer. by looking and comparing the series that is really right to choose as a printing machine in a small office, or large enough for an office with 10-30 employees.
Especially because it is supported by an ink filling system that will make printing more and more and must continue to be used. Thank you, hopefully useful...